We'll Provide the Platform so
You Can Focus on Building
We'll handle recording, processing, managing and even playback. You can focus on developing your app and business.
Record
We handle the recording from desktop and mobile web browsers and from native apps.
Process
All recordings are transcoded to .mp4, rotated and watermarked as necessary.
Store
We handle the storage for you but we can also push the recordings to your own storage.
Play
Playback across browsers and devices is ensured by our .mp4 conversion profile (H.264+AAC).
Powerful Recording Clients
A desktop like HTML5 streaming client that works on desktop & inline on mobile + a native mobile recording client
US & EU Servers
We automatically record to and process on localised servers for faster uploading and compliance with data protection laws.
Fast CDN
Our audio & video recording clients are instantly delivered from one of 169 edge servers around the globe.
Easy To Implement
Built for developers
HTML and JS Embed Codes
Quickly add Pipe to any web page or single page app with our easy to use but powerful HTML and JS embed codes.
Multiple Webhooks
You can setup webhooks to fire on 6 different Pipe events. Each event has its own data that's POSTed to your server side receiving script.
Design Integration
The Pipe recording clients can be integrated in terms of functionality but also in terms of size, colors and design.
REST API
Access to all your recordings data and account data in JSON format via GET,PUT & DELETE.
Easy To Manage
View recordings, generate embed codes, manage storage options, view logs, create environments and more with just a few clicks.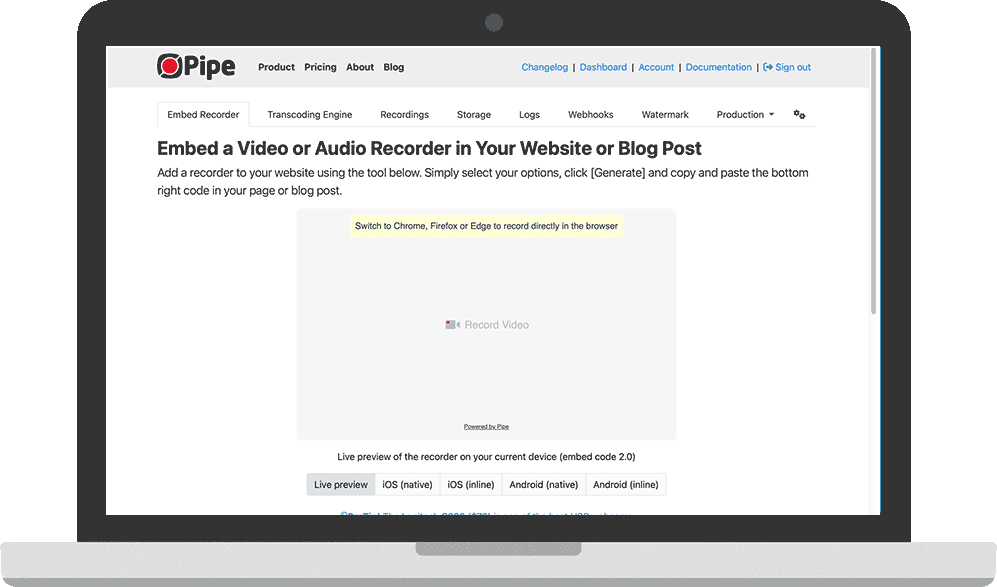 Easy Access to Recordings
Through the Pipe account dashboard you have immediate access to all your recordings and their metadata.
Times That Make Sense
All dates and times are shown in your own time zone.
Rich Metadata
Lots of metadata is stored with each recording: resolution, ip, length, user agent, codecs, device names, etc. .
Environments
Keep recordings and settings separate between your websites, projects, clients or between dev, QA and production.
Easy Access to Storage Logs
Did a push to (S)FTP/Dropbox or S3 fail? Find out why right away with our easy to filter storage logs.
Granular Billing Information
If you record past the included monthly quotas you can rely on our granular usage information to control your costs.
Secure Data Transit
The data is always encrypted in transit from recording to playback & APIs.
All videos, from both our Flash and HTML5 video recording clients, are recorded through encrypted connections.
The videos are securely pushed to your web site (through SFTP), to your S3 bucket or to our S3 storage (optional).
Playback & download from our storage is done securely through https.
Plays Well With Others
We've written code and tutorials showing you how to integrate Pipe with other software.