Record Video From Your Website Or App

Pipe's HTML5 & Flash clients handle the video recording process from both the mobile and desktop web while the iOS & Android SDKs make it possible to add video recording to your apps and link them to Pipe's processing infrastructure.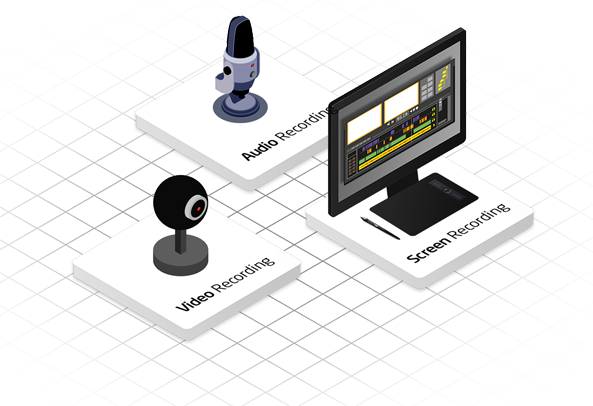 Fast CDN

Beta
The video recorder files are instantly delivered from the closest of 50 physical locations around the globe.
HTML5

Beta

+ Legacy Flash
Flash free video recording powered by our new HTML5 video recorder will work on Chrome 49+ and Firefox 50+ from secure origins (https).
Record From Mobile
HTML Media Capture is used to record video from mobile devices using the OS' capabilities & upload it to our processing infrastructure.
Up to 4k video
Pipe can record and properly manage videos up to 4k (3840x2160) in resolution
from mobile devices
and up to 1080p from desktop devices.
Picture in Picture
To avoid releasing the webcam while playing the recorded video (it created problems with Firefox's camera privacy dialog's non persistence) we've implemented a picture in picture mode for video playback.
Async HTML Embed Code
Our async JS embed code will not slow down your website's loading speed.
We Process The Videos For You
You are NOT a film editor?

The final .mp4 video files we encode contain the right audio and video codecs and are encoded at the right level to play natively across browsers, desktop players and devices.
We also extract a snapshot, place a keyframe at the beginning + the MOOV atom before that and add a watermark to any corner if needed.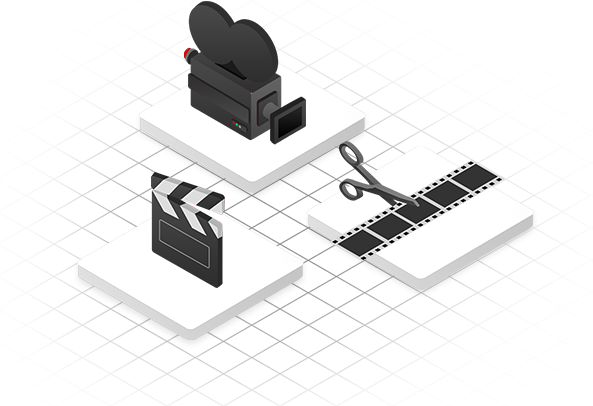 Good To Go MP4
All incoming videos (.mov, .flv, .3gp, .webm, etc.) are transcoded to a fine tuned .mp4 file which plays across browsers, devices and desktop players.
Watermarks
With the
Pipe PRO
account you can easily add a PNG watermark to any corner of your videos. Not available with personal or trial accounts.
Snapshots
A snapshot is extracted from each video to make it easy to identify and embed the video later on.
MOOV Atom
Pipe places the famed MOOV atom at the beginning of the .mp4 file to ensure immediate playback over the web.
1st Keyframe Position
Pipe tries as much as possible to place a keyframe at the beginning of the video to ensure playback does not start with a black frame.
Store Anywhere

We can store the videos for you but if you need more control over the storage Pipe can securely push the videos to your server through
SFTP
, to your
S3 bucket
, to your
Dropbox
account and even to your
YouTube
channel.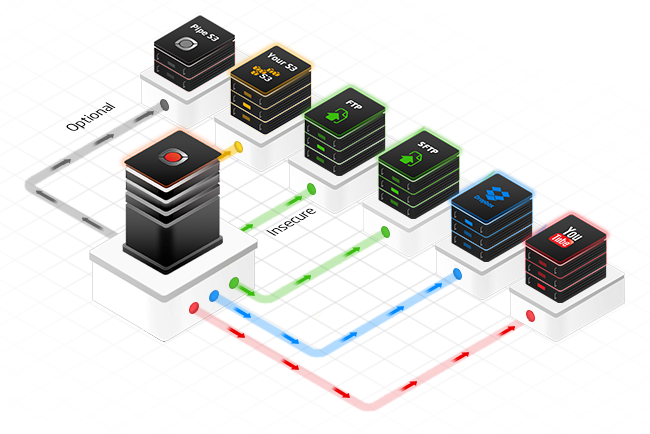 Our own S3 storage
[Optional] By default we store your videos and snapshots on our own S3 bucket where they are hold until after you close your account.
Amazon S3
Pipe can push the final video & snapshot to your own S3 bucket (all regions supported). Folders and (canned) ACL options are avb..
(S)FTP
Pipe can also use FTP and SFTP to push the final .mp4 video & snapshot to your web/storage server.
DO NOT STORE
With the DO NOT STORE toggle turned on videos are immediately removed from our servers after they're pushed to your storage.
Dropbox
Use the Dropbox integration to immediately push the recorded video to all of your devices.
YouTube
Videos can be individually pushed to your YouTube channel from Pipe's
account area
.
Easy To Integrate

Our
JS Events
and
Control APIs
make it easy to deeply integrate Pipe into your web app.
Webhooks
provide instant data about newly recorded videos while the
REST API
provides long term access to your data.
HTML Embed Code
Quickly add Pipe to any web page with our easy to use but powerful HTML/JS embed code.
Multiple Webhooks
Setup multiple webhooks to fire on 5 different Pipe events. Each event has it's own relevant data that's POSTed to your receiving script.
JS Control APIs
The
JS Control API
allows you to hide the native Pipe UI and implement your own custom HTML interface. Not avb. on mobile.
Design Integration
The Pipe video recording clients can be integrated in terms of functionality but also in terms of size, colors and design.
REST API
Gives you instant programmatic access to all your videos and account data in JSON format via GET,PUT & DELETE.
Easy To Manage

Manage embed codes, recorded videos, storage options, environments and more with just a few clicks from the
Pipe account area
.
Environments
Separate videos, webhooks and storage options between different websites or between dev, QA and production.
Times That Make Sense
All dates and times are shown in your time zone. We're sensitive to that.
Email notifications
You'll get an email for each recorded video with a snapshot + details about the newly recorded vid.
Detailed Logs
Pipe keeps detailed logs about webhook POST attempts and S3/(S)FTP/Dropbox push attempts.
Granular information
We've spent a great deal of time ensuring each recorded video is stored together with as much accurate data as possible including ip, user agent and used device names.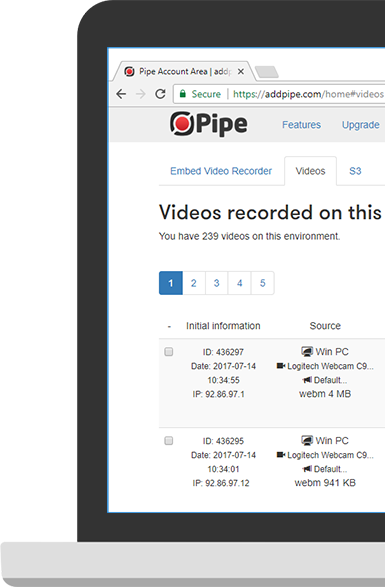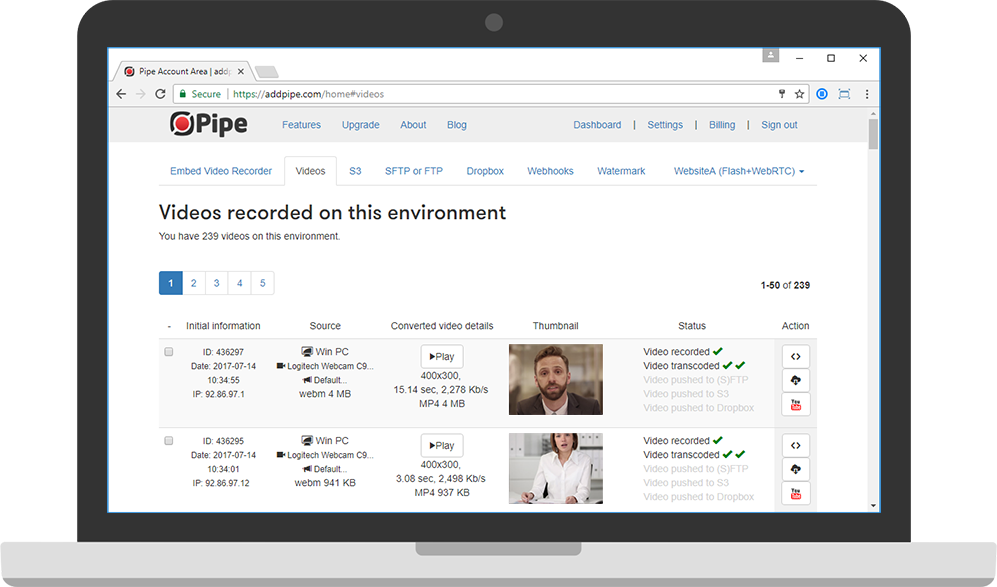 🔒 End To End Security

The audio & video data is always encrypted in transit from the client to our media servers to storage, playback & APIs.
Secure Client Delivery (https)
If your website is delivered over https our video recording client will also be delivered over https.
Encrypted Recording (HTML5)
Our desktop HTML5 video recording client uses a secure connection to stream encrypted audio and video data over the public Internet.
Encrypted Recording (Flash)
Our desktop Flash video recording client uses a secure rtmps connectionto stream encrypted audio and video data data over the public Internet.
Authenticated Webhooks
Pipe automatically signs all webhook requests so you can verify that the requests are coming from Pipe and not a third-party.
Secure Push to Storage
The videos are securely pushed to our S3 storage, to your web site (through SFTP) or to your Amazon S3 bucket.
Secure Playback
Playback & download from our storage is done securely through https.
Pre Built Integrations & Tutorials

Our prebuilt integrations and tutorials make it easy to jump start using Pipe with 3rd party software.
The Pipe Video Recorder Plugin for WordPress allows you to generate embed codes for your WP website, embed the Pipe recorder throughout your blog posts and pages and review recorded videos directly from the WP backend.
The Pipe embed code also works when pasted directly in WordPress' editor when pasted in text mode.
The official Gravity Forms Pipe Add-On allows you to add video recording to your GF forms directly from the GF plugin. The Pipe Add-On is now available via the Add-On installer within Gravity Forms and the Add-On Downloads page. The Pipe Add-On is currently only available to Gravity Forms Developer license customers.
The tutorial we wrote for the popular Gravity Forms WP plugin shows you how to add the Pipe video recorder to a form generated using GF and collect video recorded input together with your form submissions. Works with all GF licenses.
The tutorial we wrote for the Ninja Forms WP plugin shows you how to add the Pipe video recorder to a form generated using Ninja Forms and collect video recorded input together with your form submissions.
Whether you want to build a signup form, a contact form or a more complex questionnaire or qualitative survey that includes video responses, this tutorial will show you how to to do that using Formstack forms and the Pipe video recording platform.
Both Pipe Personal & PRO can push the final videos (.mp4) and snapshots (.jpg) to (a folder in) your Dropbox account. You will be notified through Dropbox's push notifications and you'll be able to download and play the video on any device that supports Dropbox.
Once a video has been recorded and processed it can be pushed to your YouTube channel directly from your Pipe account.
Pipe can automatically push all processed .mp4 videos and their .jpg snapshots to your own Amazon S3 bucket. All regions are supported and you can specify a folder and/or canned ACL. To set up the push to S3 go your Pipe account area.